Climate Change and the New Polar Aesthetics: Artists Reimagine the Arctic and Antarctic (Durham: Duke University Press, 2022)
In Climate Change and the New Polar Aesthetics, Lisa E. Bloom considers the way artists, filmmakers, and activists in the Arctic and Antarctic represent our current environmental crises and reconstruct public understandings of them.
Contributor: Elena Glasberg
New Book's Introduction is now available for free downloads at https://www.dukeupress.edu/climate-change-and-the-new-polar-aesthetics. Contact Laura Sell in marketing at Duke University Press for review copies: lsell@dukeupress.edu
Both the ebook and the paperback versions will be available in October 2022.
"Ever since the publication of Gender on Ice, Lisa E. Bloom has been one of the most innovative scholars in the field of polar aesthetics and the cultural history of the polar regions. Working with an array of creative art practice, Bloom demonstrates how new ways of feeling, seeing, and thinking are integral to the current and future social, environmental, and geopolitical predicament. This is a book for dark times but it is hopeful, resilient, and socially just." — Klaus Dodds, Professor of Geopolitics, Royal Holloway University of London
"The world looks and feels precariously different for anyone alive and paying attention, and artists and filmmakers have been among the most incisive in elaborating what is happening and what might be to come. Building on these insights, Lisa E. Bloom's Climate Change and the New Polar Aesthetics brings the author's incisive scholarship to the hinge between art and environment, addressing the uncanniness of the global climate crisis through aesthetic and historical analyses of how we got here." — Amelia Jones, Robert A. Day Professor of Art and Design, University of Southern California
Jewish Identities in American Feminist Art: Ghosts of Ethnicity
(London: Routledge, 2006)
The manifestation of American feminism in the arts has long been imbricated with certain unacknowledged questions of Jewish identity. These "ghosts" are the focus of this lively exploration int a vital component of US art.
Featuring sixty-seven illustrations and providing an important reckoning and visualization of the previously hidden Jewish 'ghosts' within US art, Jewish Identities in American Feminist Art addresses the veiled role of Jewishness in the understanding of feminist art in the United States.
From New York city to Southern California, Lisa E. Bloom situates the art practices of Jewish feminist artists from the 1970s to the present in relation to wider cultural and historical issues.
Rooted in the postwar climate of assimilation, exemplified by the at criticism of Clement Greenberg, and exploded by three generations of feminist thinkers and practitioners, these themes are examined in depth through the work of important contemporary Jewish artists including Eleanor Antin, Judy Chicago, Deborah Kass, and Martha Rosler, amongst many others.
'an important contribution... Bloom's work is thoughtfully written, generously illustrated...' - CAA Reviews
'groundbreaking... thought-provoking' - Women in Judaism
'a ground-breaking book... a valuable contribution... not only a pleasure to read but a timely and brave book.' Art History
See Reviews in: Art History, CAA Reviews and Women in Judiasm
Introduction
Chapter 1: "Clement Greenberg's modernist shadow."
Chapter 2: "Negotiating Jewishness in the 1970s: The work of Judy Chicago and Mierle Laderman Ukeles."
Chapter 4: "The California work of US artist Martha Rosler."
Chapter 5: "Contemporary Feminist Art Practices: Danielle Abrams, Rhonda Lieberman and Elaine Reichek."
Chapter 6: "California Feminist Art and Post Nationalist Identities: Doris Bittar, Beverly Naidus, Lidia Shadow, Ruth Wallen."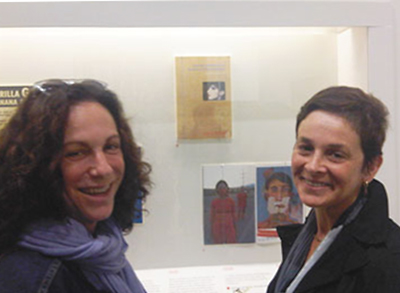 Shifting the Gaze: Painting and Feminism. Jewish Museum, New York; 14 September 2010. Jewish Identities book displayed inside case documenting Jewish feminist art. See review "Size Matters: Notes on the Truimph of Feminism Art," article by curator David Belasco on "Shifting the Gaze: Painting and Feminism." Photo: Lisa E. Bloom with Deborah Kass.
With Other Eyes: Looking at Race and Gender in Visual Culture, Editor, Lisa Bloom (University of Minnesota Press,1999) (Japanese Translation: Tokyo, Japan: Saiki-sha, 2000.)
Challenges the politics of gender and race underlying the practice of art history.
Feminist and multiculturalist efforts to uncover the assumptions underpinning the production of art have transformed our understanding of visual culture. The field of art history, however, continues to downplay the race and gender politics informing its own interpretative practices. With Other Eyes demonstrates how feminist, postcolonial, and antiracist concerns can successfully be incorporated into the study of art.
Contributors: Jennifer A. González, Inderpal Grewal, Caren Kaplan, Zoe Leonard, Aida Mancillas, Francette Pacteau, Ann Pellegrini, Griselda Pollock, Irit Rogoff, Shawn Smith, Ruth Wallen, and Margie Waller.
"Bloom's edited volume With Other Eyes aspires to push art history in directions mapped by feminist cultural studies and postcolonial theory, areas that art history had neglected at the time of the volume's publication. Bloom insists on the need to situate knowledge and to challenge art history's claim to determine "what may be considered legitimate and reliable knowledge and what may be marginalized."
Patricia Morton, Art History Department, University of California, Riverside
See Reviews in Signs, the NWSA Journal and the Journal of Aesthetic Education.
Eleanor Antin, essays by Howard Fox and Lisa E. Bloom (Los Angeles: Los Angeles County Museum of Art, 1999)
Catalogue of an exhibition held at the Los Angeles County Museum of Art, May 23 to August 23, 1999.
For more than three decades Southern California artist Eleanor Antin has been an acclaimed figure on the American art scene. During that time she has created a body of work that is remarkable for its inventiveness, its wit, and its poignancy. This is the first comprehensive survey of this pioneer in the development of video, performance, conceptual and installation art.
This book was published on the occasion of Eleanor Antin's retrospective at the Los Angeles County Museum of Art in 1999. Images and other documentation of her pioneering work in video, performance, and installation are accompanied by an in depth essay by curator Howard Fox chronicling Antin's artistic development over her thirty year career in New York and Southern California. Lisa Bloom's article treats the feminist concerns that run throughout Antin's oeuvre and Antin elaborates on these and other topics in an interview with the curator.
Gender on Ice: American Ideologies of Polar Expeditions
(Minneapolis: University of Minnesota Press, 1993)
Bloom focuses on the conquest of the North and South Poles as she reveals how popular print and visual media defined and shaped American national, racial and masculinist ideologies from the early twentieth century to the present.
"Bloom's beautifully written and incisively argued book works with a wealth of cultural artifacts and historical narratives to explore its own polar axis: gendered and racially marked constructions of American national identity. Polar exploration turns out to be a very effective technology for making specific kinds of men. Imperialism has never before been so compellingly put on ice."
— Donna Haraway, History of Consciousness Department, University of California, Santa Cruz
See Reviews in Nature, Signs, Publisher's Weekly, Canadian Literature, The Ecologist, The Women's Review of Books, and the NWSA Journal.
For an update on Gender on Ice 15 years later, see the special issue of the webjournal The Scholar and Feminist Online titled "Gender on Ice" guest edited by Lisa Bloom, Elena Glasberg, and Laura Kay for the Barnard Center for Research on Women (Issue:  7.1: Fall 2008).